It's nice to be able to put your feet up…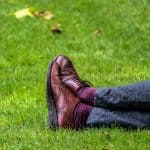 As managers and business owners, when we leave the office, we usually have a lot on our minds. Clients, employees, accounting, and more. So, it's no surprise we look forward to doing a bit of relaxing when we get home, even if it's just for a few moments. Even if our office doors are closed and locked at 5:00PM, the Internet is always on. The trouble is, even if we're at home relaxing, it's safe to say there's people out there who are looking for an opening into your network.
Consider the data on your network:
Employee records
Payroll information
Client lists
Pricing sheets
Contacts and emails
Business plans
Marketing strategy
Budgets
The list goes on...
Wouldn't it be nice to know when you left at night your office and critical information are protected from outside intruders? At EndevTec, we have a Network Security Solution which is advanced, layered, and proactive. So, you can rest easy knowing we're protecting your network.
When you're ready to put your feet up, give us a call - (702) 369-4335